The Historic Portfolio
Make money from your old photographs and images
Everyone who joins fotolibra to sell pictures gets an Historic Portfolio to market images taken before 2000 — effectively, all pre-digital images. fotolibra invites you to help form a valuable archive of old pictures taken by generations of family photographers.
Researchers will be able to find a treasure trove of previously unseen images; images that they haven't been able to access until now.
You can upload as many pre-2000 images to your Historic Portfolio as you like, for as long as you like.
No upload limit
No storage limit
No bandwidth restrictions
No fees, and 50% commission on sales
You always retain your copyright
There are only two things to remember:
Images must meet the submission guidelines in

foto

libra

's User Manual
Images must have been taken before January 1st, 2000
Transparencies, slides, negatives, printed material, glass plates — all can be scanned, digitized and uploaded to your Historic Portfolio.
Dates will be vital to enable picture editors and buyers to find images – whether you know the exact day, the month, the year or just the decade, make sure you include it.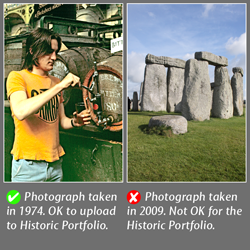 Please note:
RIGHTS MANAGED:
Rights Managed images only — there is no option to make historic images Royalty Free.
MODEL RELEASES:
Model Releases for images taken after 1950 help make a sale, but are not essential.
COPYRIGHT:
You must own the copyright of the historic images uploaded or have the authority of the copyright holder, unless copyright has expired (see the Copyright section of the User Manual).
HISTORIC IMAGES:
This means photographs which were taken before 2000, NOT simply pictures of old things.
DATES:
Every image submitted to the Historic Portfolio must be correctly dated, as accurately as possible.